Data objects
Or: How do I see the trajectory I generated?
OpenPathSampling stores everything it generates in a single file. This includes the data generated by the simulation, as well as the objects describing the simulation itself (enabling easy restarts). When we refer to storage, we mean the storage subsystem, which deals with how these things are written to a file. Most users are probably more interested in our data objects, which are needed for performing custom analysis. The data objects are described here.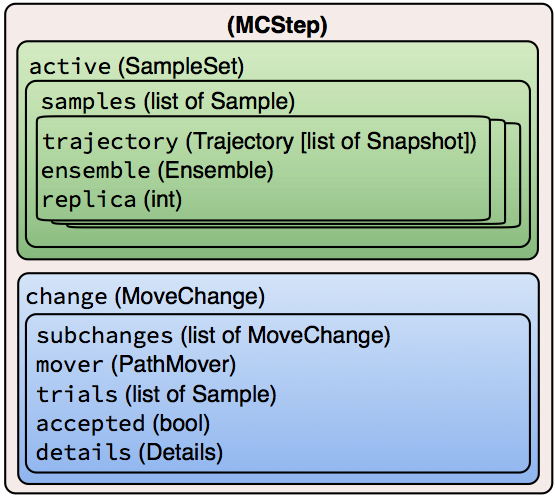 The data structures used by OPS allow one to replay the entire simulation, and this is generally the way we suggest performing analysis: loop over the steps, in order, and extract the necessary information. The MCStep object contains information about both the state of the simulation (the trajectories being sampled) and details on the steps taken during the simulation. We thing of these as "what is sampled" and "how sampling happens," respectively.
The MCStep has two important attributes: .active, which describes the current (active) state of the simulation at the end of the given step, and .change, which describes the process that occurred during this step. These will be discussed in detail below.
Note
Despite the name, MCStep is not only used for Monte Carlo. The same object is also used for other PathSimulator types, such as CommittorSimulation. Other simulation types still generate multiple trajectories, and so the split of "what was the state after this step" and "how was this step performed" still applies.